I hadn't heard of this book before the audiobook tour opportunity popped up in my inbox, but it sounded like something I'd love and I wasn't disappointed! Keep reading for my review of the story and audiobook for Uncanny Valley.
Uncanny Valley
 by C.A. Gray
Narrator: Melissa Williams
Length: 8 hours and 45 minutes
Publisher: Wanderlust Publishing
Released: Mar. 27, 2018
Genre: Young Adult, Science Fiction
Rebecca Cordeaux knows exactly what her future will hold: she will marry Andy, her crush of the last five years. Once Andy is ready to settle down, she's sure he will discover that she is his soulmate. After several small parts on stage, Rebecca knows she can become a renowned actress. Her writing also shows promise as a future author. Robots perform most human jobs that can be automated, leaving many free to pursue their personal creative interests.

But Rebecca's mother Karen fears the new world of robots, and insists her brilliant daughter join a university research team, studying the hazards of a complete robotic economy. Rebecca's father Quentin was obsessed with the subject to a degree that even her mother considered absurd, prior to his untimely death. So long as she can reserve enough of her time to pursue her true passions on the side, Rebecca half-heartedly agrees to join the research team, if only to please her widowed mother. There she joins a post-doc named Liam, whose conspiracy theories rival even those of her late father.

Liam is convinced that world Republic leader William Halpert's worldwide challenge for researchers to develop synthetic creativity will lead not to the promised utopia, in which every kind of human suffering has been eradicated, but rather to an apocalypse. Rebecca, whose best friend is her own companion bot Madeline, writes Liam off as a bot-hating conspiracy theorist, just like her father was…until she learns that her father's death might not have been due to mere happenstance.

With Liam's help, Rebecca learns of an underground organization known as The Renegades, where Quentin Cordeaux was considered a legend. While Liam attempts to stop Halpert's challenge if he can, Rebecca tries to unravel the mystery of what happened to her father. Did he and many of his contemporaries die for something they knew? Who is the mysterious informant who calls himself John Doe, and only seems to want to drive her out of harm's way? And if Halpert's challenge is answered, will it usher in a brave new chapter in humanity's history… or were Quentin Cordeaux's dire predictions right all along.
Review:
Review of story: 
Science-fiction is one of my favorite genres, but for some reason, I really don't read that many sci-fi books, so I was excited to pick this one up to review.  Uncanny Valley takes place in a world where robots have taken over many of the human jobs. Our main character Rebecca, is in university on a research team that's studying the dangers of a robot-run society.  Rebecca has a secret companion bot that is her best friend, and it's let her to have a different opinion about robots than most of her colleagues and friends.  Rebecca's father was in the same field, and his conspiracy theories let to his untimely death when Rebecca was young.  After the Republic leader announces a worldwide challenge to develop synthetic creativity for the robots, Rebecca's team discovers that all of their research (which goes against what the world leaders are trying to accomplish) has been deleted from the cloud. They team up with an underground organization to stop the challenge, and Rebecca vows to solve the mystery surrounding her father's death.
I loved this story! Robots with artificial intelligence are a reality for our own future, so I'm fascinated to read about worlds where robots are relied upon for almost every  service. From waitresses to medicine, the humans in the book used robots for just about everything. They're capable of conversation but do not have real emotions. They can only mimic what they see and have been programmed to do.  I really enjoyed that the story had two different interconnecting stories throughout: stopping the challenge and figuring out what happened to Rebecca's father. It was interesting to see how the two came together through the course of the book. There is a slight love triangle between Rebecca and two love interests, but it was by no means the main focus of the book. I liked how it played out, and it was fun to see Rebecca talk through her feelings with Madeline, her robot companion.  Rebecca's relationship with Madeline was one of my favorite parts of the book. As Rebecca is conducting her research and learning more about synthetic creativity and the emotional capability of the robots, she starts to see her friendship with Madeline through a different lens.
Some of the scientific terminology and explanations went right over my head, but I didn't feel like it had a negative impact on my ability to understand the plot or progression of the story.  It was helpful that we were given the book from Rebecca's POV, because at times she didn't understand (or just didn't care to pay attention) to some of the lengthier science explanations either. Her inner monologue would state that she had no idea what someone was talking about, and she'd move on to thinking about something else.  Rebecca ends up dropping out of school to focus all her energy on finding out what happened to her father and help her colleagues put a stop to the Republic leader's challenge, and that's when things turned into high stakes. She was jeopardizing her career to do this, and she didn't have room to fail.  As the book got closer and closer to the end, the suspense over whether or not things would resolve was nerve wracking.  It ended on a cliffhanger, so now I'm itching to find out what happens next. Unfortunately, the next book in the series isn't available on audiobook yet, so I may have to pick up a Kindle version.
Review of audiobook:
This was my first time reading a book narrated by Melissa Williams, and I'd listen to her again. I usually listen to books on 2x speed because that pace feels more like the speed I read in my head. With Uncanny Valley, I did listen on 2.5-3x speed, so I think Melissa speaks more slowly than typically narrators. It wasn't an issue for me since I was able to speed it up slightly. It didn't hinder my enjoyment at all.  I liked the robot voice that Melissa did for Madeline, and I never had a hard time keeping character's voices apart throughout the book. Overall, the narration was very smooth, and there weren't any noticeable pauses or stumbling.   I listened on Audible and went back and forth from my Kindle to my iPhone, depending which was closest. It kept my progress synced perfectly across the devices, and the sound quality was great. I've never had an issue with the quality of the audio files when using Audible. I'm really glad I listened to the audiobook, because I think I would have had a difficult time getting through some of the science if I'd read it myself. The pace of the audiobook helped me to understand some of it better and the parts I didn't understand still went by quickly so I was able to pass through them without struggling.  If you're considering picking up this title, I highly recommend the audiobook!
Rating: 
4.5/5 stars

About the Author:

By day, C.A. Gray is a Naturopathic Medical Doctor (NMD) with a primary care practice in Tucson, AZ, and she writes medical books under her real name (Dr. Lauren Deville). She lives with her husband, with whom she maintains a facetiously contentious movie review blog, and travels as often as they can get away. When not writing or seeing patients, she does yoga, drinks red wine while eating dark chocolate, and consumes audiobooks like there's no tomorrow!
About the Narrator:
Melissa lives with her family, including two dogs and a cat, in the foothills of the Rocky Mountains near Denver, Colorado.

After having a corporate job for most of her life, and as a self-proclaimed introvert, she decided to leave corporate America to work from home. Voice overs had always tugged at her heart as something she would like to explore, so she attended some classes and landed with a company that taught her how to break in to the industry.

Loving to read, she explored the fast growing world of audiobooks and fell in love with it. She has ten audiobooks under her belt and is currently working on the 11th. Understanding that she should always be learning how to improve her skills, she is currently working with Sean Pratt.

When not talking to herself in a padded room, she can be found walking her dog, singing or fishing the Arkansas River.

Giveaway:
Uncanny Valley Giveaway: $25 Amazon Gift Card
Tour Schedule:
Jul. 29th:
Jul. 30th:
Jul. 31st:
Aug. 1st:
Aug. 2nd:
Aug. 3rd:
Aug. 4th:
Aug. 5th:
I received this audiobook as part of my participation in a blog tour with Audiobookworm Promotions. The tour is being sponsored by C.A. Gray. The gifting of this audiobook did not affect my opinion of it.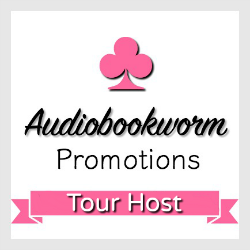 ➜Sign up as a host here